Bronx Masquerade by Nikki Grimes
My rating: 4 of 5 stars
During my walk this week, I listened to award-winning poet Nikki Grimes's Bronx Masquerade, performed by a fantastic cast of narrators through Recorded Books. With it being just under 3 hours in length, it was the perfect book to accompany me on my journey. I love Nikki's writing and her poetic style and I appreciate the short length of her books because they are not intimidating to pick up. In Bronx Masquerade, there are multiple perspectives shared throughout and it's done in a way where the reader will feel a close connection to each character's story. The characters are relatable. Many will see themselves in these pages while others will find the face of a friend or even that person who they have yet to call a friend. Either way, there is space to gain new understanding and maybe even a new love for poetry too.
Bottom line, Mr. Ward's high school English class had become the place to be. He held regular open-mic style poetry sessions right in his classroom where any student who wanted to could have a chance to share. They spit lyrics from their latest rhymes, shared original work, and that of some of their favorite poets too. It all started when his student, Wesley Boone tried to get out of writing an essay by choosing to write a poem instead. Mr. Ward let him read his poem and soon discovered that other students had poems to share too. What started out as a monthly thing became a regular part of their week and as each student grew in their craft, they became the cool kids in school. In fact, students would skip their own classes just so they could be in the audience for the performances. Mr. Ward's classroom became a safe space for the creative expressions of these young poets. Through their words, dreams were born, struggles were shared, and revelations were made; about themselves and about their classmates. With new understanding came empathy, new friendships, and self-confidence, unlike anything they'd experienced before. Poetry had opened up the door to new possibilities.
This is a book that you'll want to read with your students, especially if you are incorporating open-mic poetry into your classroom. It is listed as being for grades 7-9 but I think that older students would enjoy it as well. I hope that it will inspire their own creativity in whatever form they can imagine. The students in Bronx Masquerade enjoyed writing and performing their poetry but some were also artists who loved to paint and draw, while others were songwriters, or dreamed of being a set designer for Broadway. I hope the reader will finish this book believing in their own dreams and that it will stir up in them the courage to go for it.
Shout-Outs

Nikki Grimes | https://www.nikkigrimes.com/

Dial Books for Young Readers | https://www.penguin.com/publishers/dialbooksforyoungreaders/

Recorded Books | https://www.recordedbooks.com/
Get this book through either of my affiliate links below through Bookshop or IndieBound.
Find Bronx Masquerade on Bookshop
(raises money for local bookstores):
https://bookshop.org/a/10816/9780425289761
Find Bronx Masquerade at your local indie bookstore:
(click on the book's cover to access my affiliate link)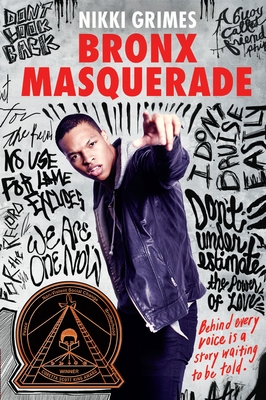 ---
You might also like:
The Poet X by Elizabeth Acevado
The Poet X is Elizabeth Acevedo's extraordinary debut novel that speaks from the depths of the beauty and power of the written and spoken word. It is a novel in verse, told in three parts about Xiomara Batista, a 15-year old girl hailing from Harlem.
Xiomara (meaning "One who is ready for war") is the daughter of two old school Dominican parents. She is often misunderstood and unheard in a home where her mom's voice rings loudest, casting judgment and laying down the law in the name of religion. With a father who is at once present and absent; there but…" gone as anybody." Read more.