A Place Inside of Me: A Poem to Heal the Heart by Zetta Elliott
Published: July 2020
My rating: 5 of 5 stars
Zetta Elliott is one of those authors whose work I know that I can count on to draw me into the depths of an unforgettable experience. You will never merely be entertained, rather, you will likely be compelled to feel deeply, to gain new understanding, to contemplate your place in the world around us as we make a difference in it and do what we can to advocate for change. A Place Inside of Me: A Poem to Heal the Heart is that book. It's an outpouring of feelings given the light of day through the pages of this beautifully illustrated book, through the eyes of a boy as he expresses those thoughts and emotions that result when tragedy strikes his community. It is honest. It is thought-provoking, and it will cause readers to think about how they feel and may also cause them to consider the feelings of others.
We cannot teach in a bubble and act as though our students are unaffected by what they see happening in the world around them. As best as we may try to keep them sheltered, they have eyes to see and ears to hear and when the world gets tough(er) I hope that we (adults/teachers) are not afraid to have difficult conversations. At the elementary level especially, it may feel safe to forgo certain topics but what does it benefit our community to be silent? While we were (and are again for many ) teaching and learning remotely during a whole pandemic, the world exploded with protests for Black lives. Our kids have thoughts about this. They have feelings to express and opinions to share. How will this impact our teaching? If you've been asking yourself this question and have been looking for books that will help you start a conversation about Black Lives Matter, for example, then this is a book you need to add to your collection.
A Place Inside of Me is recommended for ages 4-8 and is as its subtitle says, "A Poem to Heal the Heart."  Every line spoke to and seemingly from my heart at the same time, emoting the groanings that might otherwise go unspoken. And the illustrations! They are profound. Noa Denmon's use of ink and color is beautiful and highly effective at setting the tone. Her storytelling through picture is expertly done. What an incredible debut! I look forward to seeing more books illustrated by this artist.
Shout-Outs

Zetta Elliott | https://www.zettaelliott.com/

Noa Denmon | http://noadenmon.com/illustration

Farrar Straus Giroux | https://us.macmillan.com/fsg/
Book Excursion | PLN Group of Rockstar Reading Educators| #BookExcursion
Thank you for supporting my blog!
Get this book through either of my affiliate links below through Bookshop or IndieBound.
Find A Place Inside of Me: A Poem to Heal the Heart on Bookshop
(raises money for local bookstores):
https://bookshop.org/a/10816/9780374307417
Find A Place Inside of Me: A Poem to Heal the Heart at your local indie bookstore:
(click on the book's cover to access my affiliate link)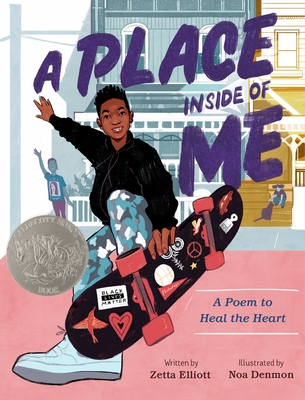 ---
You Might Also Like:
Dragons in a Bag
By Zetta Elliott
Facing imminent eviction, Jaxon is left in the care of a woman who his mother calls Ma but who is until this day a stranger to him. The two become quickly familiar however when a mysterious package she receives from Madagascar begins to move on its own. Whatever's inside is alive! You see, Ma's line of work is unique. She's charged with the care of some very special critters and she could use some help. What starts out as a day filled with uncertainty, turns out to be one that will change Jaxon's life forever because what he first thought to be lizards, turned out to be dragons!
There's magic in Brooklyn! Well, there used to be. Brooklyn has changed. Ma says she, "Used to know the name of everyone in my building – and they knew mine. Now I don't know half the folks on my floor. They move in and act like strangers, not neighbors." Brooklyn used to be home to all manner of creatures. They were safe there but Brooklyn lost its magic. Not everyone is of the mind that it needs to be restored though. Some think that magic has no place in our world, which is why Ma and Jaxon are on a mission to ensure safe transport of these dragons back to their realm. The problem is, one of the dragons has gone missing and it's up to Jaxon to find it. He travels between dimensions, through time and space, meets magical beings, and unlocks some family secrets in the process. Will Jaxon be able to find the missing dragon? Or will it be loose in Brooklyn, disrupting the balance between the two realms? Read more.
---
You Might Also Like:
The Dragon Thief
By Zetta Elliott
Kavita has a new pet named Mo. It's a dragon and it breathes fire! She deftly acquired it recently from a witch's apprentice who really should have been paying better attention to all three of the magical creatures in his charge. That apprentice was Jaxon, her brother Vik's best friend. It was Jaxon's job to deliver the dragons back to the realm of magic and when one went missing, he thought it might have been flying around Brooklyn, but it was actually with Kavita and she was desperately seeking a way to keep it out of sight. Hiding the dragon, however, was becoming more difficult by the minute. What once fit inside a mint tin had now grown to the size of a cat!
While Kavita receives some help from an unlikely hero, Jaxon and his friends go on a mission to locate a working gateway back to the realm of magic – but they have to do it without Ma. Oh, she's around, but she appears to be under some sort of strange sleeping spell that she has yet to wake up from. This would be Jaxon's chance to prove that Ma was right to choose him as her apprentice, but he had to do more than just believe in magic, he had to believe in himself. That's what his grandfather would tell him. If he believed in himself, the possibilities would be endless. Read more.