My Rainy Day Rocket Ship by Markette Sheppard
Published: May 2020
My rating: 4 of 5 stars
Imaginative, creative rainy day fun at its best. You may be stuck inside but that doesn't mean you can't still explore the world around you by turning the everyday things in your home into something magical. That's exactly what this little boy does and it makes me think of the creative brilliance that I saw in our students while we were all in quarantine during remote learning as we closed out the 2019-2020 school year. It's a gift to be able to turn what feels like a dull day into extraordinary moments of joy.
Markette Sheppard is an Emmy award-winning journalist and author. I enjoyed getting to know her work through this book. I also appreciated Charly Palmer's artwork throughout, especially the depiction of the dad. His paintings were as colorful and imaginative as our main character's creative play. I would recommend this book for K-2.
Shout-Outs

Markette Sheppard | https://www.markettesheppard.com/

Charly Palmer | https://www.charlypalmer.com/

Agate Bolden | https://www.agatepublishing.com/imprints/agate-bolden
Get this book through either of my affiliate links below through Bookshop or IndieBound.
Find My Rainy Day Rocket on Bookshop
(raises money for local bookstores):
https://bookshop.org/a/10816/9781534461772
Find My Rainy Day Rockey at your local indie bookstore:
(click on the book's cover to access my affiliate link)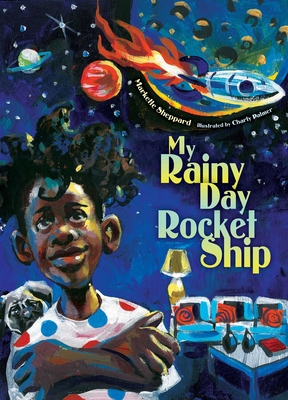 ---
You Might Also Like:
With My Hands by
Amy Ludwig VanDerwater, Illustrated by Lou Fancher & Steve Johnson
This book took me by surprise. It's not just a book of poems. It's page after page of living, breathing inspiration and the fuel to fan the flames of creativity. It is a book that was already on my radar. I'd already had a copy of it on my book order for next school year. After reading it, I will go ahead and quickly add more copies to my order. Read more.