Bedtime Bonnet by Nancy Amanda Redd
Published: April 2020
My rating: 5 of 5 stars
This was one of the books on my #MustReadin2020 list and I added it because 1) I've never read a book, picture book or otherwise, that talks about the significance of the hair bonnet 2) because Nneka Myers's cover art captured my attention with the big curls and sweet bedtime kisses from mommy. This is the first time I have experienced her art. Her work in this book was refreshingly beautiful, fun, and endearing.
Until I had my own children and started to learn how to take care of their hair, I never had such an awareness of proper haircare. Sure, I wrapped my hair up at night as a teenager. My hair was relaxed and I wrapped it around my head much like Big Sis did in this story because I wore it straight. As a mother, I made the decision to stop relaxing both of my daughters' hair. I felt the need to free us from that learned pastime to allow their natural hair to grow. Here's where the bedtime bonnets came into play for us, to protect our hair at night until the morning light and Nancy Redd's Bedtime Bonnet gets that. It accurately captures the significance of braiding or twisting up our hair at night, wrapping it up with scarves and durags, or bonnets as we ready ourselves for bed. I appreciate this depiction. I appreciate Grandpa's sense of humor and his low maintenance bald head (lol). All in all, I enjoyed every bit of this book and would recommend it as a gift for the children in your life and for your classroom or library. It is recommended for pre-k through 2nd grade but of course, adults will love it too.
Shout-Outs

Nancy Redd | http://www.nancyredd.com/

Nneka Myers | http://www.nnekamyers.com/illustration

Random House Books for Young Readers | https://www.penguinrandomhouse.ca/imprints/K7/random-house-books-young-readers
Get this book through either of my affiliate links below through Bookshop or IndieBound.
Find Bedtime Bonnet on Bookshop
(raises money for local bookstores):
https://bookshop.org/a/10816/9781984895240
Find Bedtime Bonnet at your local indie bookstore:
(click on the book's cover to access my affiliate link)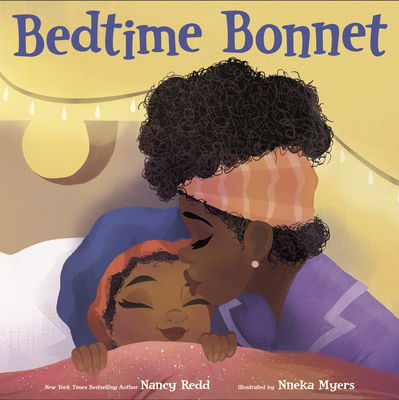 ---
You Might Also Like:
Happy Hair by Mechal Renee Roe
All I can say is, what rock was I living under in 2014 that I had not yet the great pleasure of reading Mechal Renee Roe's book, Happy Hair?! I fixed that oversight today and oh my-CUTENESS OVERLOAD! But it's much more than that. Yes, the colors are popping (Love the bright yellow cover speckled with pink hearts). Yes, each little girl is absolutely adorable. Yes, it is full of fabulous hairstyles with accessories that are on point, but this book is most importantly a mirror, affirming to its reader that their hair is beautiful, however they choose to wear it. And this book has hair-dos for days. Braids and locs, fros and crops, hair that's freshly primped and pressed, with each page declaring, "I love being me." This book is meant to be gifted and that's exactly what I intend to do. Read more.
---
You Might Also Like:
Hair Love by Matthew A. Cherry, Illustrated by Vashti Harrison
Hair Love is heartwarming and happy, one empowering word and self-affirming image after another. It is the love of a father for his daughter as he builds her up and wraps her with an unshakeable confidence. It is the unfailing adoration of a little girl for her Daddy because she knows that he is willing to give his all for her in this moment and always. It is the love of family as the two welcome Mom home, and it is about the love of your own hair. "Sometimes, love looks like braids, puffs, and twists." Read more.