Going Down Home with Daddy by Kelly Starling Lyons
Published: April 2019
My rating: 5 of 5 stars
It's reunion morning. Lil Alan and his family have traveled with great excitement and anticipation to Granny's house to celebrate and he has yet to determine what special thing he will share to pay tribute to their family's history. When his Daddy encourages him to think with his heart, even Lil Alan may be surprised by what the power of love can do. "When we go down home with Daddy, everything we see holds a piece of him and us."
Kelly Sterling Lyon's Going Down Home with Daddy is about family. Family roots, ancestry, and legacy. It made me long to step away from the busyness of our daily routines and obligations that keep us so caught up that we don't even have time for our loved ones, be they near or far away. Kelly's words sparked memories of reunions past, Sunday dinners, and time spent with cousins, grandparents, aunts, and uncles. She brought me back to my Aunt Cynthia's home in whom's basement I would sing and dance with cousins who were more like sisters and brothers, piecing together choreography and practicing before we would inevitably wow our viewing audience with our performances. It made me think of my Nana's cooking, her "love-made dishes" and her showing me how to for real fix a plate, where it's full enough to satisfy.
Daniel Minter's illustrations took hold of me too as they warmed my heart and made me remember that "Nothing is more important than family" (as noted on the back cover). His art connects past to present and is simply stunning and the ALA Youth Media Award Caldecott committee must have agreed as Minter received an honor for Going Down Home With Daddy for his work in this book.
I am glad to have read Going Down Home with Daddy and am thankful for the beautiful gift that it is. I look forward to sharing it with my students and adding it to our K-5 library collection.
Shout-Outs

Kelly Starling Lyons | https://www.kellystarlinglyons.com/

Daniel Minter | https://danielminter.net/

Peachtree Publishing | https://peachtree-online.com/

Borrowed from the Buffalo & Erie County Public Library
Find this book through either of my affiliate links below through Bookshop or IndieBound.
Find Going Down Home with Daddy on Bookshop
(raises money for local bookstores):
https://bookshop.org/a/10816/9781561459384
Find Going Down Home With Daddy at your local indie bookstore:
(click on the book's cover to access my affiliate link)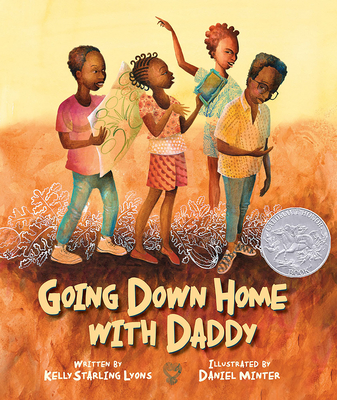 ---
You Might Also Like:
Don't Let Auntie Mabel Bless the Table
by Vanessa Brantley Newton
I don't know too many families who get to have Sunday dinners with family and friends anymore but it is something worth making the time for. It can be a time filled with love and laughter, family stories and the sharing of traditions from one generation to another. Don't Let Auntie Mabel Bless the Table made me think about family gatherings when I lived in Long Island. Cousins playing, singing, making up dance moves, and performing for family. Our grandfather is a preacher and Papa Jones can talk. Much like my own father. We know my Daddy can be long-winded and he knows it too so he's been keeping our blessing of the food brief these days. Auntie Mabel, I get you. You've got a lot to be thankful for but the food has long been cold and your guests are ready to eat. Read more.