Dream Builder: The Story of Architect Philip Freelon by Kelly Starling Lyons
Published: January 2020
My rating: 5 of 5 stars
Dream Builder: The Story of Architect Philip Freelon is one of the picture books that I had on my #MustReadin2020 list. I really enjoy Kelly Starling Lyons's writing and the connection I feel to the experiences she shares in her work so when I learned that she'd be writing a biography about Philip Freelon, the lead architect for the National Museum of African American History and Culture (NMAAHC), I could not wait to read it.
As it is said in the author's note, Dream Builder: The Story of Architect Philip Freelon, tells the story of a "young artist who found his calling and used it to honor Black contributions and culture." He loved to draw and would capture the beauty of the world around him through his work. He would sketch people, buildings, flowers, and other sights he experienced throughout his community. He was a visionary and was able to see the world "with an artist's inner eye." This truth rings through each page. He excelled in math and science and pushed through and overcame his struggles with reading. It means so much that this fact was included because I think that it is a part of what will inspire our students who maybe don't feel like the most confident readers. They'll find what works for them too and will discover that they are capable of accomplishing great things too.
The book goes on further to highlight Philip Freelon's achievements and dreams realized through the buildings he designed, including the Tenley-Friendship Neighborhood Library in Washington, DC, the Durham Station Transportation Center in Durham, NC, and more. Culminating with the building of a century-long dream in the form of the National Museum of African American History & Culture (NMAAHC). In the afterword (written by Philip Freelon) you'll learn more about Philip Freelon's heart for his community and social justice. You'll also get a chance to hear about the interview that Kelly Starling Lyons did with Philip and his family and how this partnership all began. I agree with the recommendation of grades 3-5 and believe that it is a title that should be added to your collection just as I will be adding it to mine.
I have yet to get the opportunity to visit the National Museum of African American History & Culture (NMAAHC) since it opened its doors to the public in 2016 but I hope to take a trip one day with my family. The good news is that until that time, the NMAAHC's website has multiple avenues for virtual visitors to engage with the collection and to experience their expanded digital programming. Check out their website for more information: https://nmaahc.si.edu/.
Shout-Outs

Kelly Starling Lyons | https://www.kellystarlinglyons.com/

Laura Freeman | https://www.lfreemanart.com/

Lee & Low Books, Inc | https://www.leeandlow.com/
Get this book through either of my affiliate links below through Bookshop or IndieBound.
Find Dream Builder: The Story of Architect Philip Freelon on Bookshop
(raises money for local bookstores):
https://bookshop.org/a/10816/9781620149553
Find Dream Builder: The Story of Architect Philip Freelon at your local indie bookstore:
(click on the book's cover to access my affiliate link)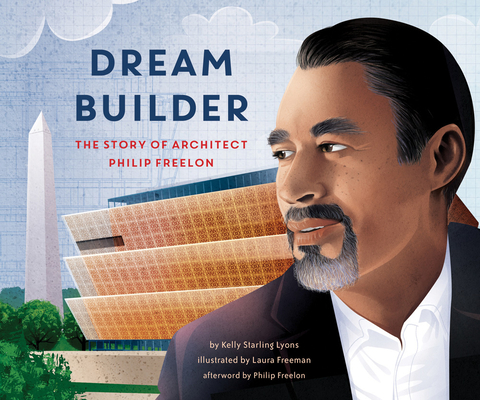 ---
You Might Also Like:
Tea Cakes for Tosh
by Kelly Starling Lyons,
Illustrated by E.B. Lewis
It was a pleasure to finally get the chance to read one of Kelly Starling Lyons books. I have followed her on Twitter this past school year and appreciate the work that she does as a founding member of The Brown Bookshelf.
Tea Cakes for Tosh is the first book of Kelly's that I've read and it warmed my heart! It got me good in that sweet spot where memories of times spent with grandparents dwells. That place where laughter, freshly baked coconut cake, big hugs, and stories still linger. Cherish that time for the incredible gift that it is. Much like this book is a gift. Read it and you'll see what I mean. Read more.
---
You Might Also Like:
Hope's Gift by
Kelly Starling Lyons
Illustrated by Don Tate
Best line in a picture book I've heard in a long time: "That's the sound of freedom, Hope…And nothing can keep it from coming."
When her father answers the call to join the war, he leaves Hope with a beautiful conch shell. Gifts from daddy are priceless. A treasure to have and hold but this gift carries a promise, one that means she will see her father again, one glorious day when freedom comes. A promise she holds onto even when she fears he'll get caught for running away. Even when seasons come and go and daddy's still not home. In her greatest times of worry, she prays hard for her father, puts her ear to the shell, and lets the swoosh, swoosh sounds of freedom take her away until that fateful morning her dad returns and they can be a family again. Read more.