Just Like Me by Vanessa Brantley-Newton
Published: January 2020
My rating: 5 of 5 stars
Oh, how I adored every bit of this book! Vanessa Brantley-Newton's talent is a gift in every poetic line and in each beautifully detailed illustration. Just Like Me is just the right book for every little girl. It's for the dreamers, the doorbusters, the ones who raise their voice. It's for the soft-spoken and the chill girls, the warriors and the way-makers. It celebrates positive self-image, social and emotional well being, family and friendship, with a whole lot of heart.
Take the time to digest each poem. They are rich with encouragement, enveloped with honesty, and penned with care. Your reader is certain to find a reflection of themselves somewhere in and between the lines. I'm also confident that they will enjoy the bright colors and the variety of textures and patterns that Vanessa Brantley-Newton uses throughout. It is a sight to behold. I've been buying books for my nieces who range in age from 2 to 4 and Just Like Me is one that I will make sure to send them copies of. I will also be adding a copy to my K-5 library. It is recommended for ages 4-8.
Here is one of my favorite poems:
Explorer

I am an explorer
going places that I've never
even heard of
or seen with my eyes
But I feel in my heart
I am going places

And through daydreams
and night dreams
flying high in the sky
I am an explorer
exploring possibilities

– From Just Like Me by Vanessa Brantley-Newton
Shout-Outs

Vanessa Brantley-Newton | https://www.vanessabrantleynewton.com/

Vanessa Brantley-Newton's Portfolio on Painted Words Represents | https://painted-words.com/portfolio/vanessa-brantley-newton/

Borrowed from the Buffalo & Erie County Public Library
Get this book through either of my affiliate links below through Bookshop or IndieBound.
Find Just Like Me on Bookshop (raises money for local bookstores):
https://bookshop.org/a/10816/9780525582090
Find Just Like Me at your local indie bookstore:
(click on the book's cover to access my affiliate link)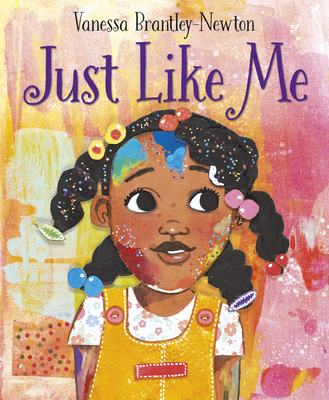 ---
You Might Also Like
Don't Let Auntie Mable Bless the Table
by Author-Illustrator Vanessa Brantley-Newton
I don't know too many families who get to have Sunday dinners with family and friends anymore but it is something worth making the time for. It can be a time filled with love and laughter, family stories and the sharing of traditions from one generation to another. Don't Let Auntie Mabel Bless the Table made me think about family gatherings when I lived in Long Island. Cousins playing, singing, making up dance moves, and performing for family. Our grandfather is a preacher and Papa Jones can talk. Much like my own father. We know my Daddy can be long-winded and he knows it too so he's been keeping our blessing of the food brief these days. Auntie Mabel, I get you. You've got a lot to be thankful for but the food has long been cold and your guests are ready to eat. Read more.
---
You Might Also Like:
The King of Kindergarten by Derrick Barnes,
Illustrated by Vanessa Brantley-Newton
The King of Kindergarten makes my heart melt to see this brilliant Black boy shining with his smile so bright, donning his crown just right. He's a big boy now, doing big boy things-all by himself! Just the way his mom and dad had prepared him to. When the first day of kindergarten arrives, he is so ready. He washes his face, gets dressed on his own and boards the bus with confidence. He meets his new teacher, says his name with pride, makes new friends and learns new things that he can't wait to tell his parents about when he gets home. He had a very good day and can't wait to do it all over again. Read more.