Cool Cuts by Mechal Renee Roe
Published: February 2020
My rating: 4 of 5 stars
Cool Cuts features images of boys who are "born to be awesome," rocking their haircuts and styles in a variety of distinctive ways. From perfect parts and low waves, to crisp cornrows and fro-hawks, these boys each have a style all their own and they wear them with pride. They are boys who are cool and clever, goal-getters, and trend-setters. They can do anything!
Mechal Renee Roe gives the reader a joyful dose of positive self-imagery. It's really nice to see little Black boys represented this way, because really, how often do you see main characters with high-tops, cornrows, locks, and twists? Our hair can be styled so many ways with a creativity that knows no bounds and that's exactly what Cool Cuts celebrates.
This is the second book of Mechal Renee Roe's that I read. She is also both the author and illustrator of Happy Hair (2014). I bought two copies and gifted them to my nieces. They LOVED it! She also created a short book trailer for the book that I absolutely adored featured below:
Cool Cuts is recommended for ages 3-7 and if you read Happy Hair, I think you will also enjoy this one. I hope to see more from Mechal Renee Roe her writing, her art, and maybe even more animated shorts.
Shout-Outs

Mechal Renee Roe | http://rhcbooks.com/books/606702/happy-hair-by-written-and-illustrated-by-mechal-renee-roe

Double Day Books for Young Readers
An Imprint of Random House Children's Books
https://global.penguinrandomhouse.com/tag/doubleday-books-for-young-readers/

Borrowed from the Buffalo & Erie County Public Library
Get this book through either of my affiliate links below through Bookshop or IndieBound.
Find Cool Cuts on Bookshop (raises money for local bookstores):
https://bookshop.org/a/10816/9781984895578
Find Cool Cuts at your local indie bookstore:
(click on the book's cover to access my affiliate link)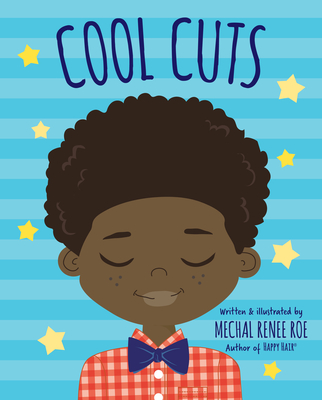 ---
You Might Also Like:
Happy Hair by Mechal Renee Roe
All I can say is, what rock was I living under in 2014 that I had not yet the great pleasure of reading Mechal Renee Roe's book, Happy Hair?! I fixed that oversight today and oh my-CUTENESS OVERLOAD! But it's much more than that. Yes, the colors are popping (Love the bright yellow cover speckled with pink hearts). Yes, each little girl is absolutely adorable. Yes, it is full of fabulous hairstyles with accessories that are on point, but this book is most importantly a mirror, affirming to its reader that their hair is beautiful, however they choose to wear it. And this book has hair-dos for days. Braids and locs, fros and crops, hair that's freshly primped and pressed, with each page declaring, "I love being me." This book is meant to be gifted and that's exactly what I intend to do.
---
You Might Also Like:
Hair Love by Matthew A. Chery,
Illustrated by Vashti Harrison
Hair Love is heartwarming and happy, one empowering word and self-affirming image after another. It is the love of a father for his daughter as he builds her up and wraps her with an unshakeable confidence. It is the unfailing adoration of a little girl for her Daddy because she knows that he is willing to give his all for her in this moment and always. It is the love of family as the two welcome Mom home, and it is about the love of your own hair. "Sometimes, love looks like braids, puffs, and twists." Read more.