Layla's Happiness by Mariahadessa Ekere Tallie
Published: November 2019
My rating: 5 of 5 stars
I read Layla's Happiness to my nieces through a virtual reading experience with their Auntie while NY was on pause for COVID-19 and it was the perfect book for us because when I think of joy, I can't help but see their little faces. All of Auntie's babies are joy personified! It's in their giggles and smiles and bubbles over in their imaginations and the creative ways they play. Layla is 7 years old and happiness is all around her. It's in wearing a favorite color (purple, like me). It's in the stories her dad tells and inside the blanket fort where her mom reads her poetry. It's in the community garden and farmer's market too and in the good times spent with friends. Layla's happiness is something we can all use a healthy dose of. She'll inspire you to notice the wonder that surrounds you each day.
I really enjoyed Layla's Happiness and my nieces did too. Her joy is infectious and permeates every single page through Ashleigh Corrin's brilliant illustrations which add a bright cheerfulness to the experience. The fonts that were used and the weight and texture of the paper also added to my delight with this book. I will definitely be adding a copy to our K-5 library collection. It is recommended for ages 4-8.
Shout-Outs

Mariahadessa Ekere Tallie | https://www.ekeretallie.com/?page_id=1276

Ashleigh Corrin | https://www.ashleighcorrin.com/

Enchanted Lion Books | https://enchantedlion.com/

Borrowed from the Buffalo & Erie County Public Library
Get this book through either of my affiliate links below through Bookshop or IndieBound.
Find Layla's Happiness on Bookshop (raises money for local bookstores):
https://bookshop.org/a/10816/9781592702886
Find Layla's Happiness at your local indie bookstore:
(click on the book's cover to access my affiliate link)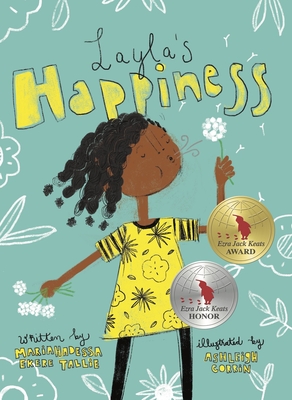 ---
You Might Also Like:
The Night is Yours by Abdul-Razak Zachariah, Illustrated by Keturah A. Bobo
It's summertime and Amani and her friends are having fun playing under the light of the full moon that shines down so bright on the courtyard that is nestled in the center of their building. They play games like double Dutch and hide-and-seek with breaks in between to gaze at the splendor of the constellations as they call them out by name, while music floats on the cool breeze at the end of a hot, hot day. The moon is happy, the children are bursting with giggles, and the night belongs to them. It's a perfect summer evening; one that is nostalgic of my own childhood. Read more.