Bowwow Powwow : Bagosenjige-niimi'idim by Brenda J. Child
Published: May 2018
My rating: 3 of 5 stars
As per the author's note, Bowwow Powwow "celebrates the history of Ojibwe song and dance, past and present." It also stands to correct inaccurate information on the part of anthropologists who'd designated the Ojibwe dance referenced in this book as the "Begging Dance." Bowwow Powwow then rights this perspective and demonstrates this dance rather as an act of generosity and friendship. I appreciate books that set right fallacious narratives that have been recorded throughout history. I also admire the fact that this book is bilingual and is written in both English and Ojibwe. I only wished that the backmatter would have included a glossary or even a bit more historical context for educators to share with their readers. In this way, Bowwow Powwow acts as a great springboard for a potential student research project.
Bowwow Powwow is a 2020 American Indian Youth Literature Award winner and is recommended for ages 3-7. You can find coloring pages on the Minnesota Historical Society Press's site.
Shout-Outs

Brenda J. Child | https://cla.umn.edu/about/directory/profile/child011

Gordon Jourdain | https://www.goodreads.com/author/show/17886969.Gordon_Jourdain

Jonathan Thunder | http://thunderfineart.com/

Minnesota Historical Society Press | https://www.mnhs.org/mnhspress

Borrowed from the Buffalo & Erie County Public Library
Get this book through either of my affiliate links below through Bookshop or IndieBound.
Find Bowwow Powwow on Bookshop (raises money for local bookstores):
https://bookshop.org/a/10816/9781681340777
Find Bowwow Powwow at your local indie bookstore:
(click on the book's cover to access my affiliate link)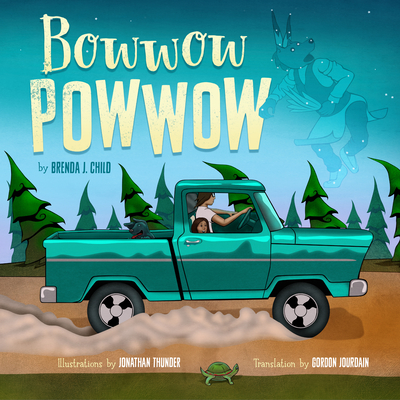 ---
You Might Also Like
Fry Bread: A Native American Family
by Kevin Noble Maillard
Illustrated by Juna Martinez-Neal
Fry Bread: A Native American Family Story is Kevin Noble Maillard's debut picture book that captured the hearts of many of my bookish friends who had the fortune of getting their hands on an advance reading copy earlier this year. It kept showing up in my Twitter feed. The cover made me slow my scroll because of Juana Martinez-Neal's art. That and the fact that it is an #OwnVoices book. Kevin Noble Maillard is a member of the Seminole Nation, Mekusukey band. I have been working towards acquiring books for our elementary library collection that are reflective of the perspective of Native Americans, historically speaking and present-day because as was pointed out in the Author's Note, "Native America is not a past history of vanished people and communities. We are still here." Read more.
---
You Might Also Like
At the Mountain's Base by Traci Sorell
Illustrated by Weshoyot Alvitre
At the Mountain's Base will inspire the reader to wait well for the return of loved ones who are serving in times of war. Even though we may worry about them, we wait with pride, in the strength of our faith and family. Waiting together in hopeful expectation for their safe return home. That's exactly what the family does in their cabin at the base of the mountain. They are a Cherokee family. They cook together, sing together, and weave together. The story unfolds through grandma's weaving. Each piece of it an important part of the whole; a family's tapestry in progress. I appreciated this aspect of Weshoyot Alvitre's illustrations. Read more.