Nathaniel English in Leaders of the Revolution by Michelle Person
Published: February 2020
My rating: 4 of 5 stars
Leaders of the Revolution is the third book in the Nathaniel English series by Michelle Person. School lunches aren't what they are all cracked up to be. The fruit isn't healthy because it is drowned in sugary syrup, the macaroni and cheese looks like soup, and the tuna sandwiches were just plain nasty. When Nathaniel tells his mom about it and asks her to solve the problem, she inspires him to take a stand. He and his 5th grade friends have a voice and they can use it to advocate for change. Their actions might very well make a difference.
Cafeteria food is a hot topic any time of the school year but when our 5th grade students, in particular, begin their advocacy unit, school lunches are a worthy cause to speak up about. Is it healthy? Does it taste good? Do students have enough time to eat it? Should they be allowed to have chocolate milk? The curriculum has suggested mentor texts to use when you cover advocacy but I'm going to bet that it won't be one that makes a reference to a historical figure like Toussaint L'Ouverture, one of the leaders of the Haitian Revolution. That's part of what I enjoyed about this book, that the mom used a historical leader and his efforts to shed some light on what her son could try and do to solve a matter that is important to him and his peers. I also appreciated the length of this book. It's got five short chapters in under fifty pages, making it a great choice for those who have been looking for shorter middle grade books. The backmatter includes review questions, text connections, and journal responses. I would recommend this for 4th through 6th grade readers.
Shout-Outs

Michelle Person | https://www.readjustlikeme.com/#!/about

Victoria Herstedt | https://torihtea.weebly.com/about.html

Just Like Me Books | https://www.readjustlikeme.com/
Find Nathaniel English in Leaders of the Revolution at your local indie bookstore: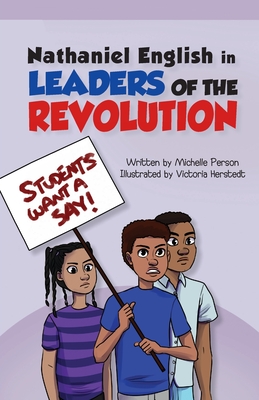 ---
You Might Also Like
by Tami Charles
Cooking from the heart is an act of love, a gift when shared with family. Sharing long-treasured recipes with loved ones preserves traditions and gives them new life in the young ones who learn underneath our wings. That's what makes this year so special for Belle. This is the year that Ti Gran is going to show her how to make Freedom Soup, an important dish to celebrate Haitian Independence Day. It is their family's New Year's Day tradition and in the process, she gets to listen to Ti Gran's stories about Haiti. Stories of enslavement, revolution, and freedom. Read more.