As of June 2018, I have been book blogging for one full year. It has proven to be a great way to 1) keep in the habit of writing regularly, 2) keep an account of the books I've read & reviewed, 3) connect with others who love reading and discussing the books they read.
I haven't learned everything there is to know about the process but as I reflect on my year, there are some things that I've picked up along the way that I thought I would share through a series of posts about book blogging. I hope you'll find these tips helpful. Feel free to tell me what you've been learning too in the comments.
Today's post will cover Tip #6: It's Okay to Not Review Every Book You Read. This might be particularly helpful to you if you are the sort of book blogger who feels like you have to write a review for everything.
Reflecting on My Journey| Did I feel like I had to review every single book I read?
I will stick with the same Q&A format that I used in the first five blog posts in this series that covered, Blogging Regularly, Getting Social on Twitter,  Using Images to make your blog engaging, Following Other Bloggers, and Planning Ahead.
Q: Did I actually review every single book I read this past year?
A: No I did not. I had to be realistic about what I was able to do.
Q: What sort of books did I review?
A: I belong to #BookExcursion, a group of educators who reads, reviews, and champions great books in our communities and on Social Media. This past year, I tried to write a meaningful review for each one of the books I received through #BookExcursion and NetGalley because they were given to me in exchange for an honest review. I would also review the books that I purchased or those that I borrowed from the library. My book stack at any given time consisted of picture books, KidLit, MGLit, and YA. Other than professional books for PD, I had very little time to read books that were intended for adults.
Q: When did I come to the conclusion that I didn't have to review every book I read?
A: Basically, when my stack became ridiculously out of control is when I realized that it wasn't realistic to review everything. I would be finished with a book and it would sit in yet another stack awaiting review. It was an overwhelming feeling for sure.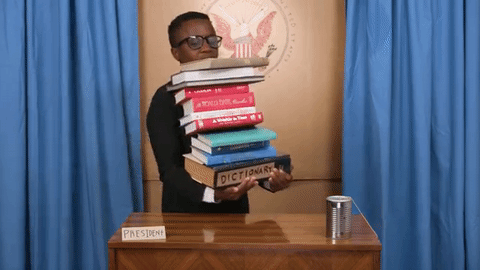 Q: What did I do instead of reviewing every book?
A: I learned to be okay with deciding to simply rate some books (on GoodReads, Amazon, etc.) and then Tweeting out a shout-out to sing their praises. Composing a Tweet is a much quicker process than writing a full review. It is a huge time saver. I still struggle with this because a big part of me wants to dedicate time to writing a full review for each book I read.
Q: Why is this even a problem? What's the big deal about writing book reviews?
A: Sure, I could choose to just read a book and move on but if I am calling myself a book blogger, it only makes sense that I write and share reviews. I get to read so many great books and reviewing them keeps me in the practice and habit of writing regularly and gives me the extreme pleasure of sharing what I love with others. It also helps support the authors we read and enjoy.
Q: Are there any books I flat out refused to review?
A: There were times when an unsolicited book would appear in a DM on Social Media this year that I had to turn away. I just wanted to be as honest and realistic about what I'd be able to do. On occasion, I have read books that were shared with me from authors that reached out through a DM but it is my preference to stick with reviewing books that I've requested through #BookExcursion, NetgGalley, publishers, and authors.
---
GOALS | For the next 12 months, I will plan to be more realistic about how many books I can actually read and review at one time. When I am pressed for time to write a book review, I will champion the book in other ways; by posting a shout-out on Social media and leaving a rating on GoodReads, Amazon, and the like.