Tea Cakes for Tosh by Kelly Starling Lyons
My rating: 5 of 5 stars
It was a pleasure to finally get the chance to read one of Kelly Starling Lyons books. I have followed her on Twitter this past school year and appreciate the work that she does as a founding member of The Brown Bookshelf.
Tea Cakes for Tosh is the first book of Kelly's that I've read and it warmed my heart! It got me good in that sweet spot where memories of times spent with grandparents dwells. That place where laughter, freshly baked coconut cake, big hugs, and stories still linger. Cherish that time for the incredible gift that it is. Much like this book is a gift. Read it and you'll see what I mean.
In Tea Cakes for Tosh, the relationship he has with his grandma Honey is indeed an unbreakable bond that is filled with lots of love, "stories of courage," and heavenly tea cakes that "smelled like vanilla mixed with sunshine." The two of them spend afternoons together baking and remembering. Honey would share stories about Tosh's great-great-great-great grandma, Ida that were so vivid, it was as though he were being transported back in time. Then one day, Honey's memory begins to fade. She can't quite recall the recipe as well as she used to. Tosh is right there to help grandma remember. To bake tea cakes for her and to tell the story that's connected to them.
What a sweet, sweet story. This is one that I will be adding to my K-5 library. You will want to get a copy for your family. One to keep, and one to give away. Add it to your classroom library too and read it aloud with your students. I guarantee that you will all love it!
Shout – Outs

Kelly Starling Lyons | http://www.kellystarlinglyons.com/

The Brwon Bookshelf | https://thebrownbookshelf.com/

E.B. Lewis | http://eblewis.com/

G.P. Putnam's Sons
A Division of Penguin Young Readers Group
http://www.penguin.com/publishers/gpputnamssons/
Find Tea Cakes for Tosh at your local indie bookstore:
(click on the book's cover to access my affiliate link)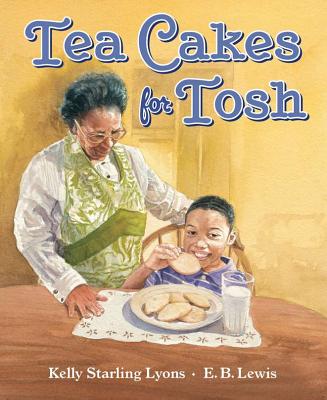 ---
You Might Also Like:
Saturdays Are for Stella
by Candy Wellins
Illustrated by Charlie Eve Ryan
George and his Grandma Stella have a very special relationship. The two of them spend their Saturdays together and each one is filled with adventure. They host ninja tournaments, visit museums, fight off alien attacks, eat frozen yogurt, and bake cinnamon rolls too. They truly know how to have a good time. As good times go, sometimes they have to come to an end. When George suddenly loses his grandmother, his happy days are turned to sad ones and his grief seems too much to bear. George even goes so far as to cancel Saturdays but as time goes by George learns to cherish the memories they shared and joy begins to wash away the sadness. Read more.